Join the Plumbing Heating & Air Conditioning Team That's Served the Inland Empire Since
1949
We're Looking For Top-Quality People
If you're the best at what you do and want to work for a company that appreciates good work and offers opportunities to grow and be rewarded, consider a position with the Ballard Plumbing Heating & Air Conditioning team. We're always ready to talk with great people for the following positions:
HVAC Installers
HVAC Technicians
Plumber Apprentices
Residential Plumbers
Customer Service Representatives (CSR)
Seven

Decades Of Service
Since 1949, four generations of the Ballard family have been serving homeowners throughout the Inland Empire, with an approach built upon a proud heritage of uncompromising customer service and top-quality products. Working here, you'll know:
How you feel appreciated when you don't cut corners
How we inspire ongoing training and education
How it feels to have customers rave about you and demand that you're the only technician that works in their home
How much you can earn when you truly are the best
Ballard Plumbing Heating & Air Conditioning is a team of home service experts who go the extra mile to ensure peak performance for plumbing, heating and air conditioning throughout the Inland Empire.
We take great care of our team members, and that includes generous compensation. In addition to unlimited earning potential, you'll appreciate:
Company-supplied, take home at night, new and safe company truck
Medical insurance – we pay 100% for your insurance premiums for health insurance.
New technology, including iPhone and access to integrated software
State of the art tools, parts, and supplies
401k plan with a company match
A family – this is the last in the list because it's the most important. We care about our team and expect you to bring that same caring when you join. We do a lot more than just work together. You'll come to love our company outings, and you'll build life-long friendships at

Ballard

.
If you want to be part of something bigger than just a job – make this career move and find exactly that for which you are looking. You will work in a place where you will be appreciated by your team and customers, and where your work has a direct effect on the success of the company. If this sounds like you, spend a little time here on our website. When you're ready, please use the form below to apply for a position.
Download our application here and you can email your completed form to thomasotisballard@gmail.com.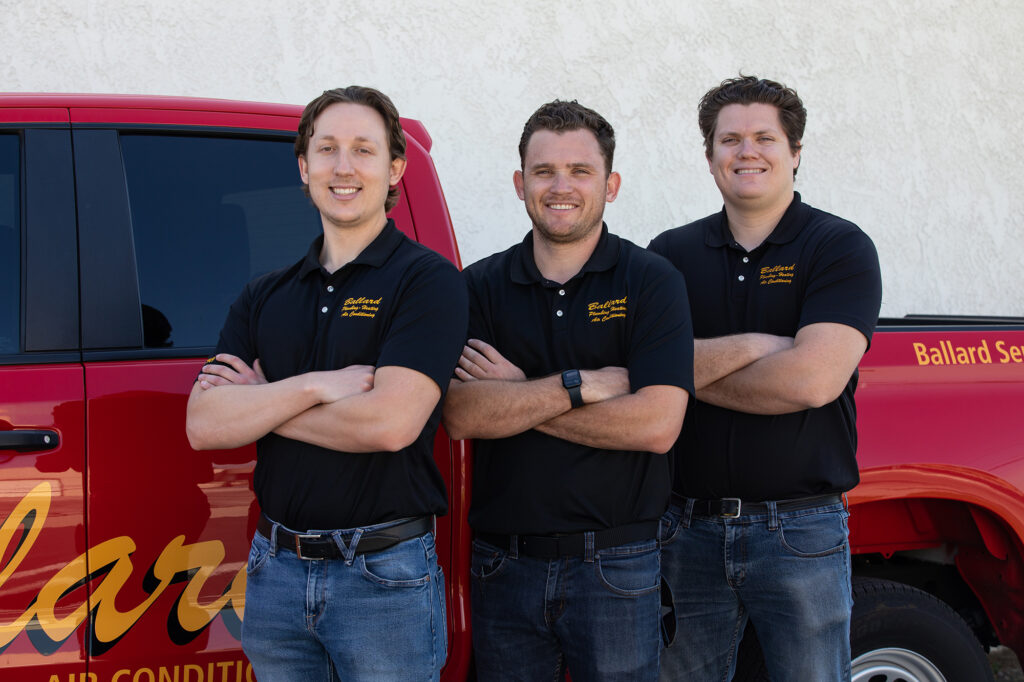 Ballard Plumbing Heating & Air Conditioning

's General Requirements
High school diploma or GED. At least 18 years old
Have a genuine and personable demeanor
Willingness to pursue, develop, and participate in continuing education
Ability to complete a diploma, degree, or certificate program in the field
Efficient and organized
Have a high level of mental and physical aptitude
Have a strong working knowledge of codes and safety measures
Strong steady work history
Able to climb in attics, under houses, in box trucks, and work within confined spaces
Able to lift 75 lbs
Attend required department meetings. Attend company or vendor training as required
Maintain any necessary licenses or certifications which may apply
Exhibit professional conduct at all times, whether at the job site or driving company vehicles
Possess strong residential customer service experience, patience, troubleshooting, and diagnostic skills
Strong communication skills, with the ability to keep daily logs and records of all maintenance functions
Ensuring compliance with appliance standards and with Occupational Health and Safety Act
Ability to pass a criminal background check and drug test
Veterans encouraged to apply
Key Requirements for Plumbing
One year of experience for a Plumber Apprentice position
Two years of experience for a Residential Plumber position
Work with and train any assigned plumbing helpers
Knowledge of local plumbing codes, with the ability to apply them in a practical manner on each job, working with inspectors, suppliers and co-worker technicians to ensure correct project work
Capable of executing plumbing techniques such as soldering, pipe threading, drain cleaning, fixture installation, gas leak testing, and repair
Key Requirements for HVAC
Two years of experience for HVAC Installer position
Four years of experience for HVAC Technician position
Understanding of advanced principles of air conditioning, refrigeration, and heating
Skilled in installation, cleaning, adjusting, and repairing systems
Ability to guide and advise the customer to select the most appropriate air quality system to fulfill their requirements
Ability to perform maintenance, warranty, and emergency repairs from installation to end-of-life
Identifying maintenance risks on equipment
Diagnosing electrical and mechanical faults for HVAC systems
Performing emergency repairs promptly and efficiently
Providing technical direction and on-the-job training
Proficient in balancing air and water treatment systems in line with HVAC protocols
Proficient in reading schematics and work plans
Key Requirements for Customer Service
A great attitude
Computer skills
Phone etiquette
Desired skills and experience