Locally Owned Heat Pump Experts Serving the Inland Empire Since
1949

Save up to $2,450 Off a New Air Conditioning & Heating System
Take advantage of these rebates and credits!
Up to $2,000 Instant Consumer Rebate
Up to $450 Energy Star Tax Credits
Special Financing Available
Save up to $2,450 off a high efficiency heating and air conditioning system with instant consumer and Energy Star® tax credits. Instant consumer rebates up to $2,000 on high efficiency systems, discounts vary by model and efficiency. EnergyStar® federal property tax credits available at 10% of system cost up to $450 tax credit for systems meeting minimum energy efficiency requirements for existing home/principal residence. Special financing available from third party lender with approved credit. Coupon required and not valid with any other offers or on prior sales. Expires 10/15/2021.
Call

909-882-1748

to Discuss
Your Heat Pump Replacement Today!
Call

909-882-1748

To Learn About Heat Pump Replacement Options
Many Californians choose heat pumps as a highly efficient way to meet their year-round comfort needs. Heat pumps warm your home in the cooler months … and keep it cool when summer's heat arrives. If you need a new heat pump, count on the heat pump experts at Ballard Plumbing Heating & Air Conditioning to help you choose the right system at the right price.
Ballard Plumbing Heating & Air Conditioning's professional heat pump team has extensive knowledge of heat pumps and will take the time to study your home and listen to your concerns before recommending the brand and model that will best serve your home. Since 1949, our highly skilled technicians have been helping Inland Empire homeowners stay safe and comfortable all year 'round.
Many companies make heat pumps, but Ballard Plumbing Heating & Air Conditioning makes the choice easier for you. Our experts will respond quickly and recommend your best heat pump options from the industry's best names and systems. We want to help you make your home as comfortable as possible while respecting your budget.
Call 909-882-1748 for heat pump replacement options for your home. The Ballard Plumbing Heating & Air Conditioning team offers free estimates and financing is available!
Do You Need A Heat Pump Replacement?
Most homeowners don't think about their heat pumps until they notice they just don't feel as comfortable. If you've noticed any of the problems described below, call the heat pump experts at Ballard Plumbing Heating & Air Conditioning. We'll listen to your concerns, inspect your current system and help you determine whether a new heat pump is your best option.
You're not comfortable.
If your home isn't getting cool enough in the summer or warm enough when it's chilly outside, it may be time to switch to a new heat pump that's expertly sized for your home.
Your energy bills are getting bigger.
Higher bills may be a sign that your heat pump is losing its operating efficiency and having to work harder to keep up. A new high-efficiency heat pump can pay for itself over time through lower heating and cooling costs.
It's several years old.
Today's heat pumps are engineered to provide an efficiency rating of 14 SEER or more. The higher the number, the better the efficiency. If your current heat pump is even just a few years old, you're paying for more electricity than you need to be. Upgrading to a newer, higher-efficiency heat pump will improve your comfort and lower your bills.
It's breaking down frequently.
If you're having to make a lot of calls for service, it may just be that your heat pump is nearing the end of its service life and is ready for a replacement that will heat and cool your home safely and efficiently. All those repair bills can add up!
You want to make a switch.
Does your home use a separate central air conditioner and furnace? Switching to a heat pump allows you to replace both with a single unit that offers greater efficiency.
Is replacement your best option? The team at Ballard Plumbing Heating & Air Conditioning will examine your current heat pump and listen carefully to your concerns. Our experts can give you an honest opinion about whether you should replace now or just have us repair a problem. We've earned the trust of local homeowners since 1949!


Today's Deals from
Ballard Plumbing Heating & Air Conditioning

Save up to $2,450 Off a New Air Conditioning & Heating System
Take advantage of these rebates and credits!
Up to $2,000 Instant Consumer Rebate
Up to $450 Energy Star Tax Credits
Special Financing Available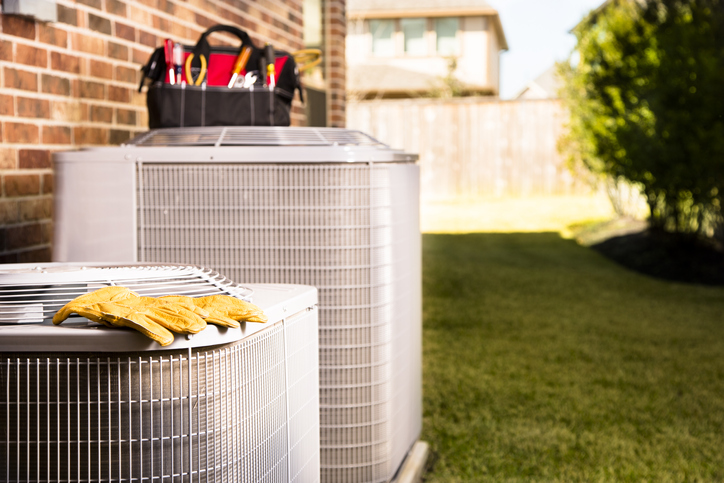 $25 Off Any Heating or Air Conditioning Repair Service
Trust your system to our expert technicians

$75 Heating or Cooling Tune-Up Special
Keep your system running smoothly all year long
Hear From Our Happy Customers